Food bank advice for shoplifters in north Wales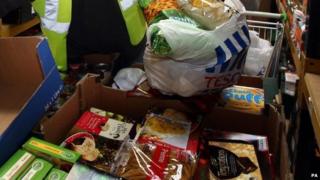 Shoplifters in north Wales will be given details of food banks after evidence that offences are being committed to obtain food.
North Wales Police will pass on the location and opening hours of food banks to offenders, said Police and Crime Commissioner Winston Roddick.
Mr Roddick told business leaders on Thursday a crackdown had been launched on shoplifting.
It accounted for 10% of all crime in the region, he said.
Reported shoplifting offences in north Wales have increased by 21.7% compared with the same period last year.
Mr Roddick said half of the incidents took place in 10 of the area's big chain stores.
A website is being developed to share information, such as pictures of prolific offenders, with retailers.
Research needed
The Shopwatch scheme will also be extended and stores are being encouraged to issue civil banning orders for shoplifters.
Mr Roddick said: "Officers tell me that interviews of offenders and analysis of types of items stolen suggest many offences are committed to raise money to feed a drug habit or to obtain food.
"More work is required to quantify the impact which the current economic climate and benefit changes are having on crime levels.
"In the meantime, work is taking place to identify the location and operating hours of food banks and other support services. This information will then be made available in local communities and handed to those arrested for shoplifting."