Iron Age hill fort sought by Hen Gastell diggers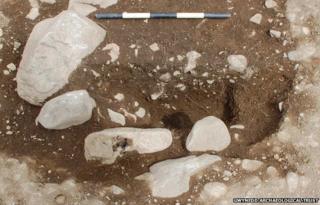 Archaeologists and volunteers in Gwynedd are hoping to unearth an Iron Age hill fort as part of a UK-wide Festival of Archaeology.
The team is excavating an ancient ditched enclosure at Hen Gastell in Llanwnda, near Caernarfon.
Surveys in 2013 suggested the site may be medieval rather than Iron Age.
Site director Jane Kenny said: "There are definitely at least five postholes, which is really exciting, because postholes mean there was a building."
An open day on Saturday 19 July will offer a glimpse of what the dig has discovered.
The Festival of Archaeology, which runs until 27 July, includes open days and special events at historic sites across Wales.