Prominent Welsh language poet Gerallt Lloyd Owen dies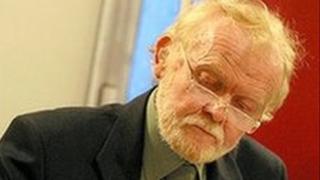 One of the Welsh language's most prominent poets, Gerallt Lloyd Owen, has died following a short illness.
Born in Sarnau, Gwynedd, he won the Urdd Eisteddfod three times and the National Eisteddfod chair twice.
The 69-year-old was known for his hard-hitting political poems and was also the former presenter of the Radio Cymru poetry competition, Talwrn y Beirdd.
He was also a primary school teacher before setting up the Gwasg Gwynedd printing press in 1972.
'Never be replaced'
"The National Eisteddfod of Wales is saddened by the news, and offer their condolences to his family at this difficult time," said a spokesperson for the Welsh cultural festival.
Folk singer and language campaigner Dafydd Iwan said Owen's "poetry will always speak to Wales and for Wales".
"Gerallt was the voice of his generation and he put into strict metre what some of us believed in the sixties and seventies," he said.
"That can never be replaced because he expressed our inner most thoughts and aspirations and really put us to the test."