Marine Ashley Hicks' mountain fall death ruled accidental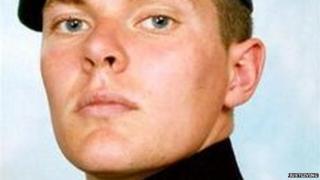 A Royal Marine died accidentally after falling 100ft (30m) on a training exercise in Snowdonia, a coroner has ruled.
Ashley Hicks, 25, plunged down a gorge while taking part in a special forces selection exercise in October 2012.
North West Wales deputy coroner Nicola Jones recorded the verdict at the hearing in Caernarfon.
A Navy spokesperson said an inquiry identified lessons to try and prevent another death in similar circumstances.
In a statement after the hearing, the spokesperson said: "Our thoughts remain with the friends and family of Marine Hicks."
The inquest heard from Soldier R, the SAS officer in charge of choosing new recruits, who said there was "the highest expectations" for Marine Hicks, from Solihull.
He fell down a steep gorge north of Llyn Trawsfynydd lake as he and his group tried to get to a safe point while being pursued by other soldiers.
He was in the top 10 students and the inquest heard that up to 250 people started each course and the pass rate was between 9-13%.
The officer said: "We would expect rather than hope someone of Ashley's quality would pass the course."
He added: "Escape, evasion and survival are inherent skills a soldier must demonstrate to join this specialist unit."
Giving evidence from behind a screen, Soldier N, who was in charge of the exercise and a member of the directing staff, said it was very difficult to identify the routes students would take.
Following Marine Hicks's death, an investigation was carried out by North Wales Police, the Health and Safety Executive (HSE) and the Land Accident Prevention and Investigation Team (LAIT).
After these investigations were finished, a Ministry of Defence Service inquiry was carried out which highlighted improvements in exercise planning and risk assessment.