Celebration for Beaumaris organist's 70 years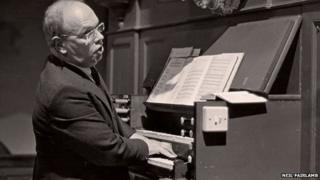 He's provided the music for countless services, weddings and funerals but then Anglesey church organist John Griffith has been playing for an astonishing 70 years.
Soon to turn 80, Mr Griffith first played the 23rd Psalm in 1944, the year of the Normandy landings.
He took over as organist at the 13th Century St Mary and St Nicholas Church, Beaumaris from his mother Emily.
Parishioners are to celebrate his landmark with a dinner.
The rector, the Rev Neil Fairlamb, said : "His mother was the church organist and also mayor of the town and she started him off when he was 10 years old.
"John went to lessons with the organist at Bangor Cathedral but he is mostly self-taught. He played increasingly as his mother got older before becoming the organist officially."
'Remarkable achievement'
The church organ dates from 1802 and is in its original casing, a character in its own right to master.
"You used to have to have someone to pump it up to make it go and if you pulled out too many stops it could go out of tune, but it's electric now," he said Mr Griffith.
"It's been completely overhauled twice in my lifetime."
He became the official organist 30 years ago, when his mother retired.
"When I started it was very difficult, I wasn't allowed to play in services. My mother would only let me play hymns until I'd been broken in," he said.
"In those days the parochial church council was very particular and she was worried an alto in the choir might object but then I was allowed to play."
As for the future he is hopeful someone will come forward to learn the ropes.
"It's a commitment but not as much as it was. We used to have three services on a Sunday, we'd come home from one, change our clothes again into Sunday best and be back."
Mr Fairlamb added: "John cares about the music and it saddens him that the church isn't as strong as it was and there's a concern for the future.
"We've tried to find someone from the next generation who could follow in his footsteps but so far haven't found anyone.
"John was a deputy head at a primary school so has a rapport with young people and has offered to give organ lessons for free, but we're still looking."
A spokeswoman for the Church in Wales commented: "It's a remarkable achievement.
"It is people like that who keep church music going in parishes throughout the country. The Church in Wales is very grateful for such talent and commitment."