Audit office looks at Conwy education chief's redundancy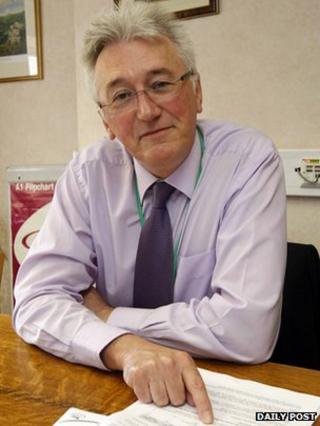 The Wales Audit Office (WAO) has confirmed it is looking into the circumstances surrounding Conwy's education director's departure.
The council has been criticised for paying Geraint James, who leaves at the end of next month, a redundancy package after he said he was going to retire.
Aberconwy MP Guto Bebb has said the council has questions to answer over the matter.
The WAO said its involvement was not in response to any individual's request.
Conservative MP Mr Bebb said Conwy should have looked harder for ways to avoid having to make a redundancy payment.
Conwy is merging education and social services to be led by a single director in a move set to save £400,000 over five years.
The authority has previously said that it "cannot comment on an individual employee's case particularly, as in this case, where the officer is still in the council's employment".
The issue was discussed at a council meeting earlier this month.
Chief executive Iwan Davies said they had sought expert legal opinion which had confirmed unequivocally that Mr James's departure was a redundancy and not a retirement situation.
Conwy council said in a statement: "It's not appropriate for the council to comment on the situation of an individual member of staff.
"However, we have previously shared information with the Wales Audit Office and we are awaiting a response from them."