Celtic Array Rhiannon wind farm off Anglesey scrapped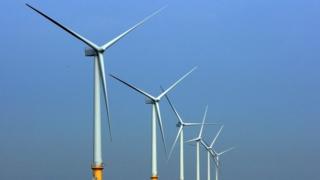 A massive wind farm planned for the Irish Sea has been scrapped.
The Rhiannon wind farm, 12 miles (19km) north east of Anglesey, would have covered an area the size of the island.
Celtic Array, a partnership of Centrica and Danish firm Dong Energy, said the Irish Sea was "economically unviable".
Up to 440 turbines would have produced enough power to meet the needs of around 1.7m homes.
"We're disappointed not to be progressing with our work to develop wind farms in the Irish Sea Zone," said a project spokesperson.
"However, our assessments have shown that ground conditions are such that it's not viable for us to proceed with the technology that's available at this stage."
ANALYSIS by Iolo ap Dafydd, BBC Wales environment correspondent
The entire Celtic Array project is being dropped, despite the Irish Sea being seen as a good wind energy source.
The reason given is that the seabed geology is too difficult. Different types of rock and sand would have meant that the construction would have had to use different footings and foundations which would have led to costs increasing horribly, according to Centrica.
Industry body RenewableUK suggested there could be other reasons as well - government policy, the UK's new Energy Bill, and the reduction in subsidies to produce renewable energy.
It's accepted that offshore wind is twice as expensive as onshore, but thought to be less controversial in terms of impact on people, communities and landscape.
Centrica has small offshore wind farms already and Dong Energy from Denmark will carry on developing projects on the east coast of England.
According to Centrica, UK government policy has not had a bearing, and like RWE pulling out of the Atlantic Array project last year, some of the same problems in terms of technology and ground issues seem to have resurfaced.
But there are questions on why this second large offshore project in Wales - like RWE's Atlantic Array - has been shelved.
How will it impact on Anglesey's Energy Isle ambitions? Could the National Grid now be forced to re-think and downgrade its plans on supplying energy from north Wales with two gigawatt of proposed power now not being generated in the Irish Sea?
Jobs hope
First announced in 2010, the project had been submitted to the UK government in 2012.
Anglesey council leader Ieuan Williams called the announcement "hugely disappointing".
"We'd hoped that the Rhiannon Wind Farm operational base could have been located in the port of Holyhead, given its potential for assembly, operations and maintenance of offshore wind farms," he said.
"This could have brought jobs and economic benefits to the island."
Nick Medic, spokesman on offshore developments for the industry body RenewableUK, said while the announcement was disappointing, the reasons behind it were "understandable".
However, the Isle of Man Steam Packet ferry company welcomed the cancellation and said the project could have threatened its ability to re-route sailings in bad weather.
Chief executive Mark Woodward said: "The loss of viable adverse weather routes would have threatened our ability to provide those vital services, resulting in a serious negative socio-economic impact for us and the whole of the Isle of Man."
Earlier in July, National Grid confirmed that the timetable had slipped for its plans to connect the Rhiannon wind farm to the electricity network with a 1km overhead line near Rhosgoch on the island.
The Welsh government said the announcement was disappointing but it understood the difficulties facing the firms. It said it was committed to working with businesses to bring forward new developments.