Kevin Chambers jailed after Llandudno door banging death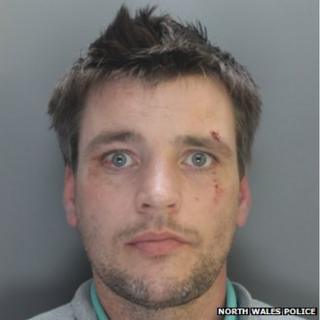 A hammer-wielding drug addict has been jailed after a woman suffered a heart attack and died when she was terrorised in her own home.
Kevin Chambers, 37, of Llandudno, admitted possessing an offensive weapon and damaging Carole Wall's door last September.
The hairdresser, 58, collapsed while dialling 999.
Chambers, jailed for two years, caused "sheer terror", Caernarfon Crown Court heard.
He arrived at Ms Wall's door on 15 September last year at about 23:30 BST waving a hammer and claiming he was being chased by a man with a gun.
Inside the house, Carole, her husband Peter and their son Neal, 32, were terrified.
Mr Wall went to switch off the house lights but, as he did, his wife, who was making a 999 call, collapsed.
'Murdered his wife'
It emerged later at her inquest that she unknowingly had extensive heart disease and the shock of what happened triggered a heart attack.
On Thursday, the court was told Chambers had been in hospital with septicaemia, but had discharged himself and taken a cocktail of drugs to ease the pain.
But, instead, they made him paranoid and caused him to believe he was being chased by a man with a gun.
Sentencing, Judge David Hale said: "What a tragic series of events. Peter Wall is devastated by his loss. He will never forgive you.
"As far as he's concerned, you've murdered his wife.
"In law, you haven't. But your actions have had consequences, resulting in the death of Carole Wall that night."
A victim impact statement written by Mr Wall and read out in court on his behalf revealed he had not returned to his home since his wife died.
"I used to be happy-go-lucky with my wife by my side, but now I'm completely different," it said.
"I don't have the same zest for life as I used to have.
"I'm now facing the task of rebuilding my life without the only woman I've ever loved."