Travellers move on to Anglesey show park-and-ride site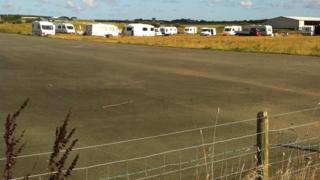 Travellers have moved on to a key location of the Anglesey Show ground just hours before organisers take over the site.
The land on the Mona Industrial Estate is used as a park-and-ride site for the some 60,000 visitors to the two-day show.
Anglesey council, which owns the land, is seeking a court order to remove the travellers.
Show organisers who take over the site at midnight would not comment.
A council spokesperson said: "If for any reason our application is unsuccessful, we would willingly work with show organisers and North Wales Police to ensure that this prestigious and important event is not compromised in any way."