Adventurer Ash Dykes's Mongolian trek into record books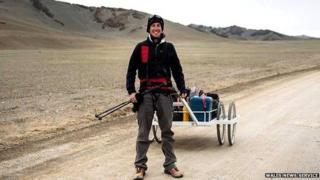 A young adventurer has become the first person to walk 1,500 miles (2,400 km) solo across Mongolia - one of the world's most desolate countries.
Ash Dykes, 23, of Colwyn Bay, spent 78 days alone crossing the unforgiving landscape and trekked into the record books.
As he conquered the Altai Mountains and scorching Gobi Desert, he became known to locals as the "lonely snow leopard".
The scuba diving instructor said he has achieved the "impossible".
In aid of the British Red Cross, Mr Dykes battled raging sandstorms, heat exhaustion and unrelenting loneliness.
But on Wednesday he completed his adventure from Olggi in the west to Choybalsan in the east.
"It is an absolutely unreal feeling," he said.
"It still hasn't really sunk in, it feels surreal.
"I haven't had the time to fully reflect. I have done what a lot of people said would be impossible."
Mr Dykes dragged a 120kg (18 st) home-made trailer which carried his dehydrated food, water butt and camping equipment.
His longest day saw him complete 55 km (34 miles) in 14 hours.
"It was sometimes difficult leaving a really nice family in a small settlement or isolated yurt to face the extreme conditions alone all over again," he said.
"At one point I walked for around eight days without seeing a single soul. But I was so determined to make it that I didn't let it bother me too much.
"The thought of returning home and people saying, 'you tried your best' frightened me the most and kept me going strong until the end."
Mr Dykes suffered severe heat exhaustion in temperatures were in excess of 40C while crossing the Gobi Desert and nomads offered him shelter.
"There have been so many unforgettable experiences on this trek it is impossible to list them all," he said.
"The storms, as frightening as they were when you were in the centre of them, were unbelievable to witness.
"Throughout the expedition I felt privileged to see the country first hand and witness its diverse landscape and unpredictable climate."