Barefoot walker Philip Wells ends 1,000 miles on Anglesey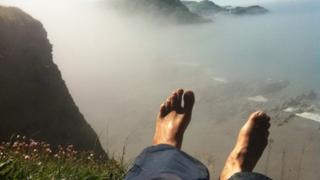 After walking barefoot for 1,000 miles over rugged cliff tops and valleys, a fundraising poet's feet have earned a well-deserved rest.
Philip Wells, 51 and from London, completed his epic trek from Penzance, Cornwall, to the Menai Bridge, Anglesey, on Saturday after 110 days on the road.
Despite having a new-found "enormous respect" for his feet, Mr Wells happily slipped them into a pair of flip-flops at the finish.
"I am elated and satisfied," he said.
Mr Wells embarked on the barefoot walk to raise money for children around the world living in poverty.
He admitted the first 300 miles (482 km) were the toughest, as his feet grew accustomed to the terrain.
But his spirit remained strong despite having to take two days off after standing on a buckthorn.
"That was really unpleasant," he said.
"I needed antibiotics and the doctor told me I could not walk."
But he was determined to complete the challenge.
"The last 500 miles have been really ok," he added.
"I was expecting to be on my knees... but it's been absolutely amazing."