Gwynedd cemetery may be locked over littering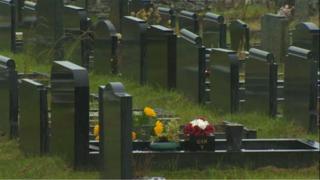 A cemetery in Gwynedd may be locked in future because visitors are leaving so much litter.
There are signs in Bethel graveyard in Golan near Porthmadog asking people to take their rubbish home but more and more is being left behind.
Dolbenmaen Community Council is responsible for the graveyard's upkeep and says emptying the bin was too expensive.
Gwynedd council said they are happy to explain their refuse collection terms.
Community councillor Megan Lloyd Williams said it was a sad state of affairs, but closing the cemetery was one course of action under consideration.
They have also contemplated installing cameras to deter those who litter.
Another community councillor, Dafydd Thomas, visits the graveyard to clear the rubbish once a month.
The job was getting harder and harder, he said.
The community council said it would monitor the situation between now and the end of the year when a final decision will be made about whether it can keep the gates open or not.