40mph gusts delay Topper World Championships in Pwllheli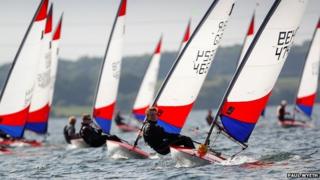 A major dinghy sailing event has been delayed because of strong winds gusting up to 40mph in Gwynedd.
The Topper World Championships 2014 at Pwllheli were expected to get under way at 11:00 BST on Monday.
But organisers, Pwllheli Sailing Club, have put back racing until at least 14:00 BST after 29mph winds were recorded.
More than 700 sailors are taking part in the event, which will run until Friday.