Walker, 68, injured at Dolgoch Falls in Snowdonia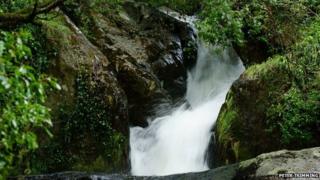 A 68-year-old walker from Peterborough suffered head and leg injuries after he slipped and fell 40ft (12.2m) in a steep river gorge in south Snowdonia.
The man fell at Dolgoch Falls, a beauty spot near Abergynolwyn, while with his family on Tuesday.
Paramedics treated the man before 13 members of the Aberdyfi Search and Rescue Team carried him down a rocky path on a stretcher.
The injured man was flown to hospital at Bangor by air ambulance.