£70m tidal power scheme off Anglesey is suspended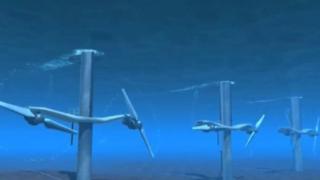 Plans for Wales' first commercial tidal energy farm planned off the coast of Anglesey have been suspended.
The £70m Skerries Tidal Stream Array had won Welsh government backing and £10m from the UK government.
The project would have seen five tidal generators located in up to 130ft (40m) of water half a mile from Holyhead.
Developers Siemens gave no reason for putting the project on hold but said it was discussing "different opportunities".
The scheme, Siemens previously said, would have generated enough power for 10,000 homes.
But on Monday a spokesman said: "Following discussion with our partners, we have decided to suspend our work on the Skerries Tidal Array Project in Anglesey, Wales.
'Bitterly disappointed'
"We will continue to review our strategy for deployment.
"Our discussions with suppliers and other key stakeholders are ongoing on different opportunities.
"We continue to believe that tidal energy will play an important future role in delivering the UK's low carbon economy and creating long term sustainable jobs."
The island's AM, Rhun ap Iorwerth, said he was "bitterly disappointed" and he hoped the project would be revived.
MP Albert Owen added: "It is disappointing news for the economy of the island."