Conwy pupils barred from school bus in pass 'chaos'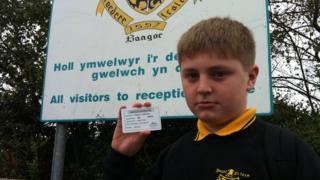 A school head has heavily criticised a 'no pass, no travel' policy in Conwy which saw pupils barred from boarding a bus.
The 12 and 13 year olds from Friars School, Bangor, were stopped by the driver at Llanfairfechan and were unable to travel to school.
Head teacher Neil Foden said the situation was "chaotic" and blamed Conwy council.
But councillor Mike Priestley said it was a safety precaution.
Mr Foden said: "The school transport situation... was chaotic. It is not acceptable that pupils were left on the side of the road in Llanfairfechan.
'Not good enough'
"It's the local councils who organise school transport and this is simply not good enough."
Kevin Collinson's 12-year-old son, Callum, was one of the pupils prevented from boarding the bus and lives 10 miles (16 km) from school.
"He came home breaking his heart and we had to take him by car," he said.
Mr Collinson said even though his son's pass was due to expire in 2018, it was out of date because the council had issued new ones.
"But they had sent it to our old address so we didn't know about it," Mr Collinson said.
He claimed the council's policy was "draconian" and added: "It's wrong to leave 12 and 13-year-old children on a road with no means of getting to school."
Callum has now received his new pass and has been able to board the school bus.
Llanfairfechan lies on the council boundaries of Conwy and Gwynedd, with some pupils opting to travel to school in Bangor.
Conwy council is responsible for issuing bus passes to pupils in its authority area, even if they are being educated in the neighbouring county.
In September, Conwy council issued a 'no pass, no travel policy' for its school buses.
Safety first
Mr Priestley, Conwy's cabinet member for Highways, Environment & Sustainability, said: "The bus passes are colour coded and clearly show the pupil's name and the number of their designated bus.
"These measures have been introduced to ensure that every eligible child is provided with a seatbelt and can travel safely in their own seat.
"Overcrowding is unacceptable on a school service and where we have two buses operating the same route, pupils sometimes get into the habit of catching the later bus, which can lead to one bus travelling half empty and the second at risk of being overloaded."
He said the council had spoken with schools and written to parents.