Anglesey hosts public meeting on nuclear waste disposal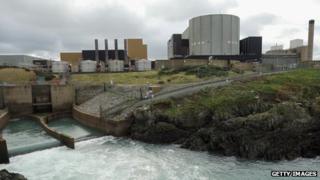 Public meetings are being held on Anglesey to discuss the disposal of nuclear waste in the UK.
Local councillors have stressed the meeting does not mean a waste site would be welcomed on the island.
A replacement nuclear power station is due to be built on Anglesey .
The Committee on Radioactive Waste Management (CoRWM) is inviting people to find out more about the work it is doing when it visits the Magnox Power Station at Wylfa.
Local senior councillors have said previously the authority has never shown any interest in locating a nuclear waste disposal site on Anglesey.
Meetings are being held on Thursday and Friday.
Wylfa is Britain's oldest nuclear power plant and has operated on the island since 1971. A consultation on a new reactor is due to end next month.