Bangor woman's 1950s fight for university equal rights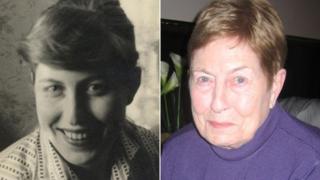 The fight for equal rights for female students in the 1950s has been told in a new book about a Bangor college.
Sheila Davies was expelled from Bangor Normal College, which is now part of the city's university, when she objected to strict rules.
They included a curfew, "lights out" at 10pm, a pubs ban and smoking being prohibited in their rooms. Her case was taken up in the House of Commons.
But it was 15 years after her expulsion before the rules changed.
Female students at Normal College in the 1950s were not allowed out beyond 9pm in winter and 9.30pm in the summer and before they could go out they had to explain where they were going and with whom, explained the former student, who now has the married name Parry, and is in her 80s.
"The lights would be turned off at the mains in our hostels at 10pm - if we wanted to study or move about it had to be by torch or candlelight," she told BBC Radio Wales.
"The main social event was a dance at the university on a Saturday night - and we were the Cinderellas and have to be back at 9pm."
'Scapegoat'
"When I arrived in Bangor I was looking forward to a good social life as well as training to be a teacher but as women students we had a strong sense of injustice."
Then aged 21, and originally from the south Wales valleys, she was elected as president of the college's women's council in 1952 and organised a petition for greater freedom.
But she was expelled in January 1953, only a few months before she was due to finish a domestic science teaching course, after clashing with the principal.
Her case was taken by the National Union of Students, the NUT teaching union and MPs raised the issued in the House of Commons
She managed to finish her course at another college but it took until 1969 and the appointment of a new principal, before the rules changed.
She is featured in a book about the college, Back to Normal, and will attend is launch at Bangor University on Friday.
Author Dr Tudor Ellis, a former lecturer, said: "She was made a scapegoat by the authorities, who portrayed the issue as being one with an individual rather than a representative of a student body."