Isaac Nash: Search for missing boy, 12, scaled down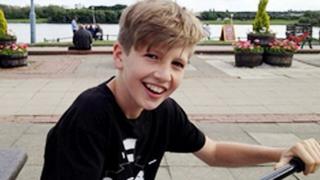 The air-sea search for a 12-year-old boy off the coast of Anglesey is being scaled down, a week after he went missing, say police.
A major search for Isaac Nash, involving the coastguard, RNLI and the RAF was launched last Friday after he was swept away at Aberffraw.
North Wales Police said: "Sadly Isaac has not been found."
The police force said its officers and coastguard teams will continue to search the coast as tides allow.
Lifeboats, divers and a helicopter have been used over the past seven days in the search for Isaac, who was on holiday with his mother, his father Adam, brother Xander, 10, two-year-old sister Greta and other family members.
The family, from the Huddersfield area, had visited Aberffraw many times before.
But Isaac and his brother both got into difficulties in waves.
Mr Nash and his father swam out to save them. Mr Nash managed to pull Xander to safety, but Isaac has not been seen since the incident.
North Wales Police said: "A week has now passed since 12-year-old Isaac Nash went missing off the coast of Anglesey.
"An extensive multi-agency search has been carried out of the sea and coastal area over the last seven days, but sadly Isaac has not been found. The search will now be scaled down.
"However, North Wales Police will continue to work with the HM Coastguard and are looking to establish an optimal time when tidal conditions will best enable a further search of the coastal area.
"North Wales Police continue to support the Nash family during this difficult time."