North Wales Police warning as quad bikes flout Anglesey coastal path ban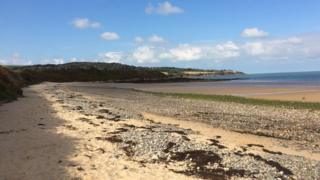 Police have warned they will take action against off-road bikers who flout a ban on them riding along the coastal path in Anglesey.
Road bikes, quad bikes and mini motors were caught on the walking path in Rhosneigr, Aberffraw, Newborough Forest and Malltraeth over the summer.
Officers said they had received "numerous calls".
They are now working with Anglesey council to tackle the problem, placing barriers and gates to make access hard.
"Not only is it disturbing for the residents living nearby, but it is damaging to the wildlife and the sand dunes," said police community support officer (PCSO) Sarah Hardie.
"There are signs in place, but people are choosing to ignore them.
"We want to make people aware that their behaviour is antisocial, that they are being irresponsible and it is a criminal offence."
Sioned Jones, the coastal access project officer for Anglesey council, said: "The coastal path on Anglesey is a long distance route circumnavigating the island, which attracts thousands of walkers each year.
"The path in the main gives right of way on foot only and this inappropriate and unlawful use by motorcyclists can damage the footpath and also be dangerous for users, potentially leading to accidents."