Llanrug's Ysgol Brynrefail: Half of pupils absent after sickness bug outbreak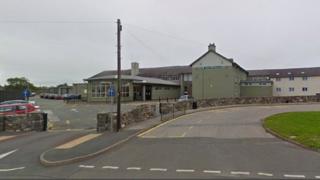 More than 400 pupils were reported as being absent from a Gwynedd high school hit by a sickness and diarrhoea bug, it has been confirmed.
Half of the 780 pupils at Ysgol Brynrefail in Llanrug - 415 - did not attend on Friday following the outbreak, Public Health Wales said.
But it stressed not all absentees had been confirmed as having the virus.
Pupils and staff have been advised to stay home for 48 hours after recovering from symptoms of vomiting or diarrhoea.
Gwynedd council's education unit and Public Health Wales are helping the school handle the situation, while parents have been emailed about the virus.
The school remains open.
A council spokesperson said: "Following instances of children showing symptoms of vomiting and high temperature, we can confirm that 415 pupils from Ysgol Brynrefail were absent from school today.
"Some parents have contacted the school to explain that they have chosen to keep their children home from school today as a precautionary measure.
They added: "Public Health Wales has advised that anyone who has been unwell with severe symptoms should contact their GP or NHS Direct on 0845 46 47."