Glyn Rhonwy quarry lake: Project receives £3m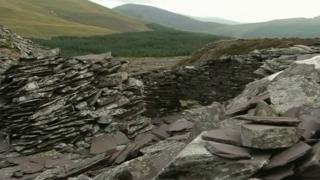 A £100m mini hydroelectric power scheme on the edge of Snowdonia National Park has received £3m to carry out exploratory work.
Quarry Battery Company (QBC) is set to open the Glyn Rhonwy, Llanberis, pump storage project in 2018.
It will be Britain's first new grid-scale electricity storage for more than 30 years.
Electricity will be generated by pumping water up hill before releasing it back down through a turbine.
Gwynedd council has given the project its backing.
Under the proposals, a dam will be built at the upper reservoir where the water will be kept before being released.
However, it has come under fire from The Snowdonia Society, which is concerned about its possible effects on wildlife, culture and heritage.
Following the funding boost from private investors, QBC managing director Dave Holmes said: "Storage is the only way to capture excess production on windy and sunny days and our Glyn Rhonwy scheme is right there at this moment of opportunity.
"We are currently the only company with the know how and options on sites necessary to satisfy a significant percentage of the immediate need."