Taxis in Dolgellau fear going bust after fee rise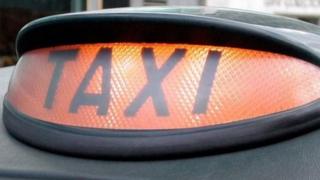 A taxi firm in Dolgellau has claimed hikes in licence fees could force them out of business.
Gwynedd council has increased the price by 20%, sending the annual price from £102.50 to £122.77.
Cader Cabs said the rise in fees on top of increased fuel, tyre and MOT costs meant they were being squeezed.
But the council said fees have been so low for a number of years it has made a loss and it was bringing fees into line with other authorities.
However, Paddy Redgrift, who has run his own taxi firm for 14 years, said there was "more taking than giving" from the council.
"It's unfair, the buses get subsidies but nothing for taxi drivers," he added.
"The fees will close us down and then there will be no taxis here."
Gwynedd council's head of regulatory services Aled Davies said: "As a result of the hugely challenging financial situation facing the council, it has become impossible to maintain this shortfall any longer without either increasing licensing fees or passing on the cost to the Gwynedd tax payer.
"This increase equates to an increase of less than one pound per week for a driver who owns and operates one taxi and, following this increase, it is expected that in future years price changes will only need to reflect changes in the cost of providing the service."