Wylfa nuclear plant given extension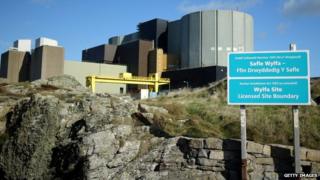 Wylfa nuclear power station on Anglesey has been given a licence to continue operating until the end of next year.
The Wylfa reactor 1, which opened in 1971 and is Britain's oldest, was due to close on Tuesday when its current licence expired.
But the Office for Nuclear Regulation confirmed the extension until 31 December 2015 at the last minute.
The Periodic Safety Review (PSR) covers a period of 10 years which will include the site's decommissioning.
A new £8bn replacement for Wylfa has been provisionally approved by UK Energy Secretary Ed Davey.
Wylfa, the last operating Magnox reactor in the world, was originally scheduled to end generation in 2010.
Footsteps
Magnox said it is estimated that the electricity generated until the end of 2015 could be worth around an extra £785m.
Stuart Law, Wylfa site director, said: "We are pleased that Wylfa's extended generation will allow us to maximise income from generation for the Nuclear Decommissioning Authority (NDA) and the UK taxpayer, and also provide another 15 months of opportunities and continued development for staff.
"A lot of people contributed and worked hard on the PSR and this result is a real credit to them."
But he added: "This will be Wylfa's final period of generation. After December 2015, we will follow in the footsteps of other Magnox sites and begin to defuel the reactor which will take up to three years."
Dr Brian Burnett, the NDA's head of programmes, said: "This is good news for the UK's energy supply, for the NDA and for the people of Anglesey and I thank everyone whose efforts have contributed to this successful outcome.
Plans for a new nuclear power station on Anglesey are currently on display.
Horizon Nuclear Power says its proposed Wylfa Newydd plant will employ more than 1,000 people once it begins working in the first half of the 2020s.