Crossbow killer targets fifth goat at Trefor, Gwynedd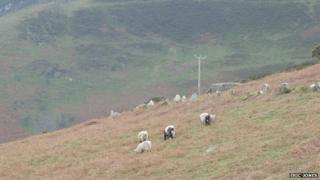 Wild goats are being targeted and killed by someone armed with a crossbow, said police.
The culprit has struck for a fifth time in the last month after four other animals were killed earlier this year at Trefor, Gwynedd.
Police believe the archer lay in wait for the goats to get close enough to shoot, and are worried a member of the public will find the culprit hiding.
DNA is being taken from the arrows in a bid to catch the offender.
North Wales Police rural crime officer PC Dewi Evans said some of the animals were alive for several days before they died, and others had to be put down.
He said that although the bolts used were fairly lightweight they had travelled some distance into the animals which suggested someone was waiting for the animals to get close enough to shoot.