Snowdon rock poetry mural dubbed 'graffiti'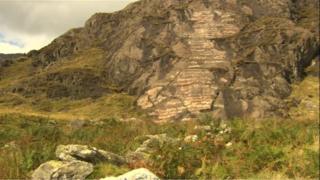 A giant mural of a poem on a rock face in Snowdonia for an outdoor theatrical production has been likened to graffiti after attempts to remove it failed.
Rain was supposed to wash the writing off the slab near Gladstone Rock but there are worries it has been baked on due to the warm September weather.
National Theatre Wales has apologised and said it will rectify the problem.
"We don't want permanent damage," said Martin Doyle, chief executive of the National Mountain Centre in Snowdonia.
"There has been an attempt to clear the paint off but it has left very unsightly writing on it.
"It actually looks like the kind of graffiti you see on a railway viaduct wall."
The Gathering production in September featured the writing of Wales' national poet, Gillian Clarke, on a slab of rock off the Watkin Path which is popular with Snowdon walkers.
The theatrical show was a four-hour walking performance telling the story of the annual cycle of sheep farming in the shadow of Snowdon with a cast of local shepherds, children, musicians and professional actors.
The production was drawn from the culmination of three years' observation of life at the nearby National Trust-owned Hafod Y Llan working hill farm.
The trust said the production team worked closely with all the relevant authorities to ensure that the materials used would cause no harm to the surroundings.
A spokesperson explained that Clarke's poem had been written on "bare rock with a non harmful clay-based product designed to wash away in the rain".
The spokesperson added: "However, the unseasonably dry weather in September has meant that her powerful words have remained visible longer than expected.
"With autumn now upon us nature can take its course and continue to wash away the poem."
Lisa Maguire, executive producer with the National Theatre of Wales, said: "It has been a more difficult clean-up operation than we had anticipated.
"Naturally we are really sorry about that and we have a team of people up there right at this moment doing their best to rectify it.
"It's quite a delicate balance because we can't be too aggressive with the clean-up operation. We do need to respect the natural balance of the rock."
Mr Doyle said: "We all appreciate this was an unforeseen outcome.
"We just welcome the fact that people are now really trying to do something to put things right."