Robin Hughes given funds for baby's headstone in South Africa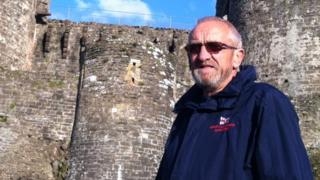 A Conwy man will return to South Africa to put a headstone on his baby daughter's grave 38 years after her death.
Robin Hughes and his family could not afford a memorial for Kathleen in September 1976 when she died three days after being born.
But nearly four decades later, his friends found out and stepped in.
They were so moved by the story that they secretly raised £2,500 to allow him to fulfil his dream.
Mr Hughes was born in north Wales but moved to South Africa with his family in 1976 because he was struggling to find regular work in the UK.
He took a job as a crane rigger at a steelworks in Newcastle, KwaZulu-Natal, which involved working long hours and night shifts.
'Black cloud'
His first son was still young and his wife was pregnant with their second child.
"When Kathleen was born, there was a problem with the birth and they put her into an incubator but she didn't survive," Mr Hughes told BBC Radio Wales' Jason Mohammad programme.
"It was like a big black cloud over the family. My wife was in hospital. I was at home with our little boy, and I don't drive, so the only way to get to the hospital to see my wife and our new baby was to carry my son up to two miles.
"And then Kathleen died.
"All I can remember was the funeral day. A hearse. A funeral car behind it. Me getting out of the car and carrying my daughter's coffin to the grave.
"It was the only time I carried her. It just hurts so much. I wouldn't want anyone else to go through it."
Baby Kathleen was buried in an unmarked grave because the family could not afford a headstone.
Mr Hughes said he spent the next 38 years wishing he could go back and put one on his daughter's grave but never thought it would actually happen.
"They say time heals, but I could just be sitting there and I'd just find myself thinking about it, about not being able to afford a stone for her grave," he added.
"In my mind, the headstone was the key to putting everything behind me, like a chapter closing."
Memorial
Mr Hughes and his family eventually moved back to the UK but he never forgot his wish to give baby Kathleen a permanent memorial.
Then one day, he told friend and wine shop owner Julie Mills the story of his daughter and how he would return to South Africa to put a headstone on her grave if he won the lottery.
She told the programme: "I was so moved to hear what had happened that I had to find a way to send him out there.
"He told me that story right out the blue. He'd been carrying this round for years, bless him, and hardly told anyone."
Ms Mills and other friends of Mr Hughes raised more than £2,500 in eight months by holding jumble sales, collections, hotpot suppers and raffles and surprised him at a presentation.
"I couldn't believe it at first," he said. "I never thought I'd see the day when I'd go out there."
Mr Hughes plans to fly out to South Africa next month to erect the headstone which will be inscribed in English, Welsh and Zulu to reflect the cultures of Kathleen's brief life.