Nesdi Jones' teenage India trip turns to Bhangra career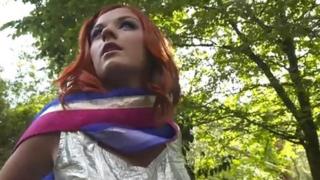 A singer from Gwynedd who got interested in Bhangra music while helping as a teenager at a school in India, has been nominated for an award.
Nest Jones 21, from Criccieth, has had a number one Punjabi hit and is now on the shortlist as best newcomer in the UK Bhangra Music Awards next month.
Her career started taking off in India, Pakistan, and the British Asian charts, after posting music videos on YouTube.
She speaks Welsh, English, Hindi and Punjabi.
"I learnt Hindi first. A lot of it was self-taught off the internet," said Miss Jones, who is known as Nesdi Jones.
She added: "My accent was a bit off to start with but when I recorded the songs I got a lot of help."
Bhangra originated in the Punjab as a dance music accompanied by traditional Indian drums.
It now fuses Indian sounds with modern Western dance music and pop.
"I spend half the year in India travelling and performing and the summer back home, where there are melas around the country," she added.
'Experimenting'
Miss Jones started singing in chapel as a child, then at eisteddfods, musicals and had a Welsh folk group in her teens.
But her immersion into Bhangra began four years ago when she travelled to Delhi to volunteer at a school where she helped to teach English and Maths.
"Many of my Indian friends would often play their music which I found very catchy and developed a keen interest in it," she told BBC Radio Cymru.
"I began experimenting on YouTube and within two days of posting my first video on the website I had over 10,000 hits."
She said she has become known as "desi gori", which she translates as "Indian white girl".
Many of her songs, which include three number one hits in the Bhangra charts, were recorded at a studio in Ruthin, Denbighshire, with a little help from her cousin.
In July she performed to thousands at a mela event in Birmingham and she said she is now recognised in the city.
Miss Jones has been performing full-time since January and hopes to make a Bollywood appearance in the near future.