Resident unhappy over jet noise from RAF Valley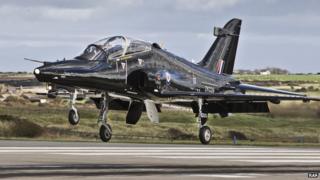 Noise monitoring has been taking place around RAF Valley on Anglesey following concern that a new fighter plane has led to increased sound levels.
The Hawk T2 jet was introduced in 2011 but some residents living near the base say it is noisier than older versions of the aircraft.
Anglesey council has installed noise monitoring equipment near the base to gather its own data on the issue.
RAF Valley says it tries to minimise disruption to nearby residents.
The military authorities will also be doing a noise survey next year.
Mark Rosenthal lives in Rhosneigr close to the main runway at RAF Valley.
He told the Jason Mohammad programme on BBC Radio Wales: "It is very, very loud.
"You have to stop having a conversation and wait for the planes to get halfway up the runway.
"Inside the house, we have to pretty much stop watching television during the evening if they are doing night flying."
He said even with windows and doors closed they could not hear the television unless it was "uncomfortably loud".
"Our biggest concern is that the noise level created by the Hawk T2 jets is considerably louder than the original Hawk T1 planes," he added.
'Painful'
"You have to stop what you're doing when a Hawk T2 goes over, and pretty much cover your ears.
"It's quite painful and apparently, it's a cause of increased heart rate, stress and leads to angina and hearing loss. Yes, I've had angina and I've got serious tinnitus."
He is not the only person to raise concerns about the noise from the new jets, with one individual setting up a social media account.
Anglesey council said noise monitors had been set up at three different locations in Rhosneigr after a complaint by a member of the public.
A spokesperson said: "The Ministry of Defence produces noise contour plans for the airfield and the environmental health section uses these when we are consulted about proposed planning developments within the contour areas.
"These contour plans have been reviewed very recently and because of the changes in the way the contours are calculated, they now mainly fall within the perimeter of the airfield."
Sqn Ldr Dave Williams from RAF Valley said the number of flights had reduced and advance warnings of night flying or exercises were placed on its website and social media outlets.
He added: "The question of possible noise differentials between Hawk T1 and T2 will be thoroughly addressed when the Centre for Aviation Medicine undertakes a new noise survey."