Porthmadog Coliseum cinema faces demolition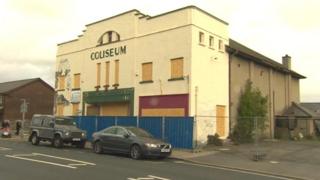 An art deco cinema in Gwynedd is facing demolition, despite a campaign to save it.
The Coliseum in Porthmadog closed in 2011 because of falling attendances after 80 years of entertaining generations of locals in the town.
A campaign to re-open it has now been wound up and Gwynedd council has received an application to demolish it.
Councillor Selwyn Griffiths said many people were disappointed and wanted to know what would be built in its place.
The council said the building, which was built in 1931 and had been on sale for a year, had been sold to a private developer.
It is still unclear what will happen to the site.
'Lot of memories'
Mr Griffiths said there was "mixed feelings" in the town to the news.
"I've had people phoning me and they want to know what's going to happen," he said
"A lot of people are disappointed and have strong feelings because it's an iconic building.
"The front of it is special to a lot of people and they have a lot of memories about the place.
"But there's also some people who feel it's so untidy now that the best thing to do is to pull it down."
'Don't need flats'
Campaigners had hoped to lease the building from the shareholders who owned the premises.
Aled Jones, who has since wound up the cinema friends group, previously told BBC Wales that he hoped the building could have had a future as an entertainment venue.
"We don't need any more flats or a pub, but the community does need somewhere to go that's open after 5pm," he added.
Gwynedd council said a final decision on the demolition would be made after a 14 day consultation.