Rhyl charity fraudster jailed for 18 months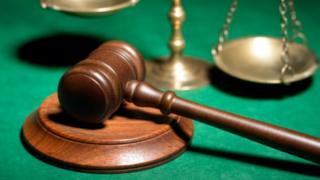 A man who swindled more than £20,000 from a charity he set up to help children with cancer has been jailed for 18 months.
Caernarfon Crown Court heard Martin Lawley, 59, and his wife, Angela, 55, used the funds for a holiday to the US.
After being interviewed by police last year, Lawley, from Rhyl, withdrew £14,000 to go to London and Edinburgh.
During the interview, he said: "I thought 'I'm nearly 60, I might as well have some fun before it's all over'."
Lawley admitted forging the names of two trustees and fraud by abuse of position involving the use of money from the Children's Cancer and Leukaemia Fund. The charity was meant to supply toys, books, games and professional entertainers for children in hospital.
'Arrogance and selfishness'
Sentencing him, Judge Niclas Parry said: "Any right-minded person would be sickened by what you have done.
"It beggars belief you stooped as low as to use the front of a charity to raise money for children suffering from cancer and leukaemia to deceive the public and fund personal expenditure."
He added: "In one final display of arrogance and selfishness after you had been interviewed you withdrew £14,000 for one final hurrah."
The court also heard how Lawley's wife, "turned a blind eye".
However, the judge noted she was the sole carer for the couple's severely disabled son.
Pleading guilty to aiding and abetting fraud, she was given an eight months suspended jail term, and four months 7pm-6am curfew.
Before sentencing, Lawley told the court he did provide some toys to children's wards, and there were acknowledgement letters from hospitals including Great Ormond Street, Alder Hey, and Birmingham Children's Hospital.