John Arthur Jones charged with endangering RAF aircraft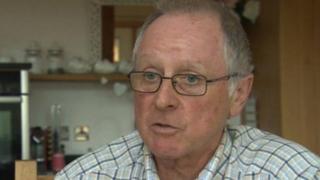 A former Anglesey councillor has been charged with endangering RAF aircraft, BBC Wales has learned.
John Arthur Jones, a businessman from Bodfordd, is due to appear before Holyhead magistrates on 2 December.
Police said a man aged 64 has been charged with 13 offences, "namely recklessly or negligently endangering an aircraft or persons within an aircraft".
The allegations involve Hawk jets based at RAF Valley.
Charges relate to incidents said to involve the use of a bright light between November 2013 and September 2014.
Speaking to BBC Wales, Mr Jones said: "Allegations have been made that a torch was shone on a jet aircraft."
Mr Jones said a claim for compensation of more than £1m had recently been submitted to the Ministry of Defence in London after residents complained about low-flying aircraft over their properties.