Bangor University warned over Pontio arts centre delays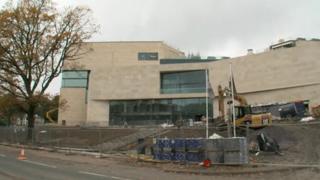 Bangor University was warned its £49m arts centre could be delayed and run over budget six months before cancelling its opening production.
Papers also show the Welsh government and Arts Council for Wales both had separate concerns about Pontio in 2011.
The project's cost has risen from £37m and its planned October opening has been pushed to February 2015.
The university has insisted that contractors believed the project timetable had been achievable.
It has previously blamed delays in the building schedule for the late opening of Pontio.
While internal assessments in April found there was a high risk to the project's completion, the same risks were identified in other internal assessments carried out in 2013.
And back in 2011, the Welsh government wrote to the ACW raising concerns and asked it to investigate the risks associated with Pontio's development.
---
Rising costs
In 2010 it was announced that Pontio would go ahead at a cost of £37m, but additional costs have pushed the total to over £49m.
Almost three quarters of the budget comes from public funds:
£15m from the Welsh government's strategic capital fund
£12.5m from the European Regional Development Fund
£3.5m from the Arts Council of Wales
£400,000 directly from Welsh government
£1m from donors
The remainder of the funding came from Bangor University
---
In turn, ACW deferred awarding any money to Pontio's construction costs due to concerns its business plan included "insufficient evidence to demonstrate that the post-opening financial model is robust".
In October 2012, Pontio submitted a revised business plan to the ACW in order to release the £3.5m of funds promised, of which £1m is still to be released once further unspecified conditions have been met.
The business plan predicts a loss of more than £1.4m would be made in its first five years after opening, but Bangor University previously said it will support Pontio financially after the centre opens.
Former Welsh Culture Minister Alun Pugh, who is Labour's candidate in Arfon at the general election, said he understood projects can be delayed and go over budget but added the timetable had been a "shambles".
He said: "People have been buying tickets and then getting those tickets refunded - all within a matter of weeks.
"So I think the immediate priority is to get the project finished but when the project is finished there needs to be an independent and external audit to find out exactly what's gone wrong with this multimillion pound scheme."
---
Bangor University's pro-vice-chancellor Jerry Hunter said: "We were in that situation at the beginning of September where we had been led to believe [by the contractors] the first part of the building, including the theatre, was going to be ready.
"The extra funding is going to be paid for out of capital funds not revenue funds, so it will have no effect on the university's daily business; no effect whatsoever on jobs, courses and that sort of thing."
---
A spokesperson for the university said Pontio's contractor was consistently of the opinion the schedule was achievable and it was obliged to give them every opportunity to deliver on their promise.
However, college officials decided to "reluctantly step-in" when it became clear the building timetable could not be met.
The university added that a revised business plan showed the centre would face a £148,000 shortfall over five years - much lower than the £1.4m predicted in an earlier business plan.