Gwynedd memorial not ready for WW1 centenary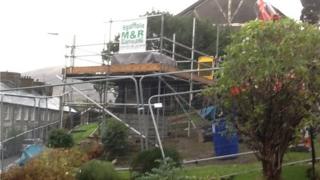 A memorial in Llan Ffestiniog to mark the centenary of World War One will not be finished in time for remembrance Sunday.
Local councillor Mel Goch says he is "devastated" the obelisk will not be ready to commemorate the 39 people who died from the village.
"We are all very disappointed it won't be there for the anniversary," he said.
Local pub manager Karen Jones says it is "embarrassing" that there will be nowhere to lay a wreath on Sunday.
The cenotaph memorial, originally built in the 1920s, is being renovated because its foundations were giving way, and was beginning to lean "like the tower of Pisa", said Mr Goch.
A commemoration ceremony with Royal British Legion members will now go ahead on Sunday at the war memorial gardens.
"It couldn't be helped, we pulled out all the stops but people just don't realise the amount of work that needed doing," added the councillor.
The delay was caused by bad weather and a struggle to find the right construction firm, but it is hoped the memorial will be unveiled next week.