Land Rover's Snowdonia photo shoot on Moel Eilio blasted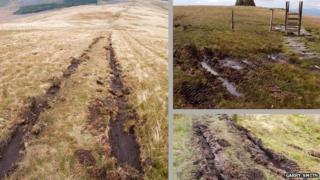 Vehicle manufacturer Land Rover has been accused of "setting an appalling example" by holding a 4x4 photo shoot on top of a mountain in Snowdonia amid claims local habitat has been damaged.
Snowdonia National Park Authority and Natural Resources Wales said they were powerless to stop the shoot on Moel Eilio as it was on private land.
Land Rover said it was "concerned" about the claims of landscape damage.
A spokesperson said landowners had been on-site to oversee the photo shoot.
"Land Rover should be standing up for the countryside, not arrogantly treating it as a playground," said John Harold, director of Snowdonia Society, a charity which works to protect and promote the mountain range.
"This is the height of irresponsibility, setting an appalling example and doing so very publicly.
"Moel Eilio has not long since recovered from a serious period of damage from 4x4s.
"National parks in particular deserve more respect."
A spokesperson for Snowdonia National Park Authority said: "The recent damage made by the film crew on Moel Eilio showed a serious lack of respect to the site itself and indeed the national park as a whole.
"Not only damage was made to local habitat and the striking landscape, but it also affected the enjoyment of locals and visitors to the area.
"Unfortunately, it is the landowner's prerogative to allow such activities on his land and it is very frustrating that we as an authority cannot stop harmful pursuits such as this from taking place."
The park authority said the site is owned by more than one landowner.
Moel Eilio is one of the national park's well known peaks, standing at 2,380ft (726m), and can provide a less crowded experience when it comes to tackling the ascent of Snowdon itself.
John Ratcliffe, protected sites team leader for Natural Resources Wales, said: "We advised the company that we had concerns about their plans, particularly as that area had already been damaged by off-road vehicles, but had no powers to prevent it."
A Land Rover spokesperson said the photo shoot was approved with the landowners and correct permissions were granted to drive to Moel Eilio, adding that the particular area used was not a Site of Special Scientific Interest (SSSI).
He added: "The landowners were on-site throughout to oversee the shoot.
"Land Rover has reiterated to the landowners that if any work is required to return the land to its original state, then we will conduct repairs."
The company official said Land Rover had been advised that the track used up the mountain was in constant use, and that "any attempt to restore any damage would be unproductive at this time due to other traffic".
The spokesman added that the landowner had told them there was "no requirement for any further action".