Runaway van driver Lee Dwyer cleared after Bangor death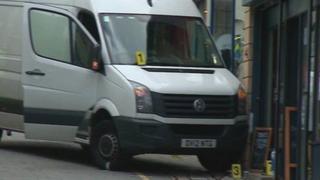 A courier whose runaway van rolled into and killed an 84-year-old pedestrian in Gwynedd has been cleared of causing death by careless driving.
Lee Dwyer, 31, of Lancashire, had been accused of failing to apply the handbrake with sufficient force to stop the van moving downhill in Bangor.
He denied causing the death of Eifion Wyn Davies Hughes in August last year through careless driving.
Mr Hughes was trapped against the wall of a building society by the van.
He died six days later.
Giving evidence at Caernarfon Crown Court, Mr Dwyer, a married father of two from Darwen, told his counsel Michael Whitty: "I applied the handbrake until it felt firm.
"I then selected neutral. I turned off the ignition, I was always taught from my driving instructor to put it in neutral."
When he returned to the VW van he realised the vehicle had moved.
A jury heard the vehicle had remained in position for two minutes and 35 seconds before rolling into the pensioner who was walking along just as the van picked up speed.
Mr Hughes was a retired lecturer at Bangor Normal College who had been married for 54 years.