Mako shark found dead after washing up on Barmouth Beach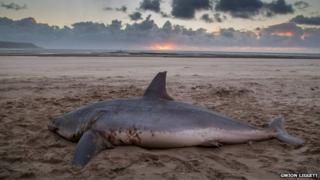 A dead shark has been found washed up on a beach in Gwynedd.
The Mako-type mackerel shark was recovered on Barmouth Beach on Friday.
Also known as sharp-nosed mackerel sharks, they are usually found in tropical and temperate seas.
An average mako will grow up to 10ft (3m) in length, can swim in excess of 30mph and can weigh up to 300lbs (135kg).