North Wales switch-on gives listeners new digital radio stations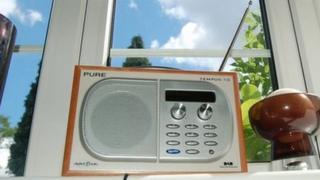 Two transmitters will be switched on in north-west Wales on Friday, giving 100,000 people access to digital radio stations.
The switch-on in Caernarfon means six stations will be available in the area for the first time only on DAB.
There are plans to build more transmitters by mid-2016 to bring digital radio to 70% of the population.
Laurence Harrison, director of Digital Radio UK, said: "This is a big day for radio and for north west Wales."
It means audiences will be able to listen to both BBC Radio Wales and the Welsh language sister station Radio Cymru on DAB.
Positive step
The stations Capital and Smooth, along with National Radio and Nation Hits! will also be available.
"We're keen that as many people can hear our service as possible, so this is a positive step forward," said the editor of BBC Radio Wales, Steve Austins.
His Welsh language counterpart, Radio Cymru editor Betsan Powys, added: "DAB is an important listening option and we know that our listeners appreciate the choice of listening to Wales' national Welsh-language radio station on as many platforms as possible."