Postcard sent from Wales finally arrives - 30 years later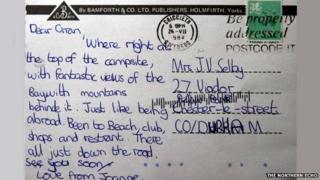 A postcard sent from a young girl on holiday in north Wales to her gran has finally arrived - 30 years later.
The card, dated 1984, was sent from Nefyn, Gwynedd, to County Durham, but only arrived this December.
The lady it was sent to has since died, but the owner of her old house, Joanne Wilkinson, is keen to return the card to the sender.
Ms Wilkinson, 43, said: "It was posted in 1984. It is in perfect condition. I don't know where it has been."
She told The Northern Echo: "She must have been young when she has written it because it is all spelt wrong.
"She would be mid-40s now I imagine."
'Like being abroad'
Addressing the postcard to Mrs Selby, the young girl called Joanne, writes: "Dear Gran, We are right at the top of the campsite with fantastic views of the bay with mountains behind it.
"Just like being abroad. We have been to the beach, club, shops and restaurant.
"They are all just down the road. See you soon, love Joanne."
The Royal Mail is looking into the matter.