Women's Institute 'still supports rural communities'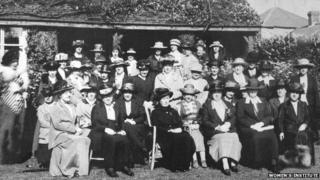 The Women's Institute (WI) can help keep communities together, its Anglesey chairwoman says, 100 years after the UK's first branch was launched there.
Founded in the village of Llanfairpwll in September 1915, it was inspired by the Farmers' Institutes of Canada.
The initial aim was to boost food production during World War One in the face of a German naval blockade.
Audrey Jones said the WI still has a part to play "at a time when communities are breaking down".
'Vibrant'
She said one of the organisation's most important initial roles was educating women in rural areas.
"A lot of women and girls hadn't had any sort of an education and we moved on from there."
Ms Jones added that WIs still have a purpose in helping forge links between women of all ages, especially in rural areas.
"It is necessary to try and establish things in an area where the community is breaking down because there's very, very little in some of our rural communities these days," she said.
Traditionally associated with "jam and Jerusalem", activities such as pole dancing have helped modernise the WI's image in recent years.
Most famously, members of the Rylstone and District WI in North Yorkshire launched the craze for naked calendars in 1999 by disrobing to raise money for cancer research, inspiring the movie Calendar Girls.