Welsh WW1 prime minister David Lloyd George remembered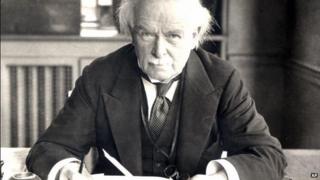 A ceremony has been held to mark the birthday of Britain's only Welsh-speaking prime minister, David Lloyd George.
The Liberal leader, who steered the country through World War One, was born on 17 January 1863.
He lived most of his life in Llanystumdwy, Gwynedd, and on Friday people in the village gathered to remember him.
Schoolchildren from the local school laid flowers and sang hymns.
DAVID LLOYD GEORGE FACTS
Lloyd George remained chancellor of the exchequer through the early years of World War One
In 1915 he was appointed minister of munitions in the wartime coalition government
In July 1916 he became secretary of state for war
In December 1916, he became prime minister
Lloyd George's achievements in the last two years of the war included persuading the Royal Navy to introduce a convoy system
SOURCE: BBC HISTORY