Hundreds expected to attend funeral of RAF veteran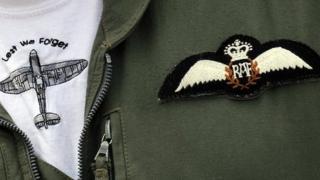 Hundreds of mourners are expected to attend the funeral of a RAF veteran who died without any family, and with all his possessions left in a shoebox.
The RAF Association appealed for people to attend the service for Keith Ingham Nutbrown, 83, who died recently at a Llandudno care home in north Wales.
The association say they have had an "incredible reaction" with 20,000 visits to their online appeal.
The funeral is on Tuesday in Chester.
Emma Reed, spokeswoman for the RAF Association, said: "There has been an incredible response to our appeal for attendees.
'Possessions in shoebox'
"We've had calls from all over the UK and it has had a big reaction on Twitter and Facebook.
"When we have made previous appeals there have been hundreds of people at the funeral and I can't see why this will be any different.
"It's nice for people to go out of their way to honour somebody they have never met.
"Unfortunately we don't have a picture of him as he only left a few possessions in a shoebox."
The funeral service for Mr Nutbrown will begin at 14:00 GMT on Tuesday at Chester crematorium, Blacon Avenue, Chester.
---
Pledges to attend veteran's funeral sent to BBC Wales
Lynn Walker, of Stoke, said: "My partner Dave and I will be attending. It's my 40th birthday. I can't think of a better way to spend my day than paying my respects."
Vic and Janet Davies, of Shotton, Flintshire, said: "He was a tenant of ours in a flat in Shotton for six years. We are pleased the RAF are doing this. We are going."
Jim Bradshaw said: "I intend to be at Mr Nutbrown's funeral. I am a member of Bebington, Wirral RAFA and NS(RAF)A Wiirral."
Sarah Thomas said: "I will be attending the funeral, although I didn't know him and lived only five miles away from him."
Allan J Mitchley said: "The Rhyl and Abergele branch of RAFA will be sending representatives."
---
Do you know Mr Nutbrown? Are you planning to attend his funeral? Contact us: newsonline.wales@bbc.co.uk