Helicopter hired for lost dog search on Anglesey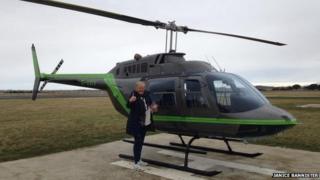 A desperate dog owner hired a helicopter for £750 to help search for her missing pet on Anglesey.
Janice Bannister's dog Sylvia went missing during a beach walk on Saturday afternoon.
Ms Bannister from Telford said she has been scouring the island since the Japanese Shiba Inu disappeared.
She hired the helicopter from Caernarfon Airport after a sighting of the dog in the dunes at Newborough beach.
"It is a huge area of dunes... you could not walk it or cycle it," she said.
She only visited the area for a day trip to meet a friend.
But a local resident has been giving Ms Bannister lodging since Saturday so she can continue the search.
Although she is due to return home, another person has offered her the free use of a caravan for her return on Saturday.
Posters have been put up around the area and a Facebook page has also been created to help coordinate the search.
"I do love that dog," she said, which is one of nine that she owns.