Lost dog search continues at Newborough, Anglesey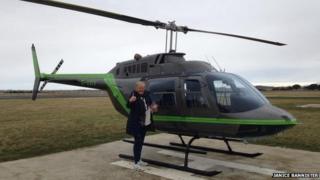 People from across the UK are expected to join the search for a lost dog which is still missing despite its owner hiring a helicopter to hunt for it.
Janice Bannister's dog Sylvia, a Japanese Shiba Inu, went missing during a beach walk last Saturday afternoon at Newborough on Anglesey.
Ms Bannister from Telford paid £750 to hire a helicopter to scour nearby sand dunes after a sighting on Sunday.
She said she hopes to use a drone as part of the latest search.
She added a number of people from have contacted her to offer help, including the singer Duffy.
Ms Bannister said the star, who is from Nefyn in Gwynedd, called her to pass on details of people who helped her find her dog when it went missing.
People from all over the UK are expected to help with Saturday's search.
Ms Bannister also praised villagers, saying they had continued the hunt for Sylvia.
Posters have been put up around the area and a Facebook page has also been created to help coordinate the search.