Behind the scenes at Ysbyty Gwynedd hospital in Bangor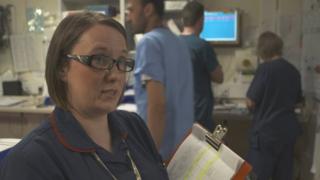 A&E waiting times, queues of ambulances outside hospitals and pressure on beds - all have made the national headlines over the last few weeks. But what about those whose job it is trying to find beds for new patients when the hospital is already full? Bryn Jones went behind the scenes at Ysbyty Gwynedd in Bangor to find out more.
When Eleri Evans arrives for her shift at 08:00 GMT, she knows if it's going to be a particularly busy day before parking her car.
"The first thing I think about when I turn into Ysbyty Gwynedd is how many ambulances will be outside today - that reflects what kind of day we're going to get," she says.
"I came into work yesterday morning and there were 19 people waiting for a bed - and that was tough - and we were still trying to find beds when I left last night at 8 o'Clock."
Ms Evans is part of the team which tries to find beds for patients and ensure a steady flow of patients through the hospital.
They are the nurses whose main task is making sure the hospital doors remain open to the public by trying to discharge those medically able to leave and prioritise those who need their beds.
Among them are patients like Gladys Hughes from Llanfairpwll, Anglesey, who has been waiting for a bed since arriving in the emergency department at 06:00 GMT.
"I had chest pains this morning and thought I'd had a heart attack for the second time," she says.
"So the only thing I could do was phone my daughter and get the ambulance to bring me in. I've had an x-ray and I'm now waiting to have blood taken from my artery - which hurts."
But she is not alone. At 09:00 GMT the hospital gets busier as patients referred as emergency cases by their GPs start arriving and are taken to the Acute Medical Unit at Gogarth Ward. Two hours later the ward is full.
There are 500 beds at Ysbyty Gwynedd. The difficulty for the bed managers is never knowing how many patients will come in through the door each day - or how many will leave.
If they cannot keep the flow moving, there will be a bottleneck somewhere along the line.
And this is a concern for bed manager Sian Evans as she walks around the wards and finds a patient in Gogarth ward on an ambulance trolley.
"Without a bed, she has to stay in the hands of the ambulance crew," she says.
"This is one ambulance that's off the road now because the patient is here waiting for a bed."
Part of her job is moving patients between hospital wards to free up beds for those discharged from the emergency department to make room for new emergency admissions.
"It's like playing chess, and unfortunately these people are patients - and it's something I have to remember."
But even though there are patients medically ready to be discharged from their acute hospital bed, they are unable to go.
Often this can be because they are elderly and need nursing care which is unavailable and this type of bed blocking is one of the main problems for hospitals across the UK.
"It happens often," says nurse Ceri Owen on Aran Ward.
"Even those with carers in the community have to wait maybe two days until the care is set up for them to return home once again.
"There are also patients waiting weeks sometimes for a place in a nursing home. We had one waiting five months."