Stena Line scraps fast ferry service from Holyhead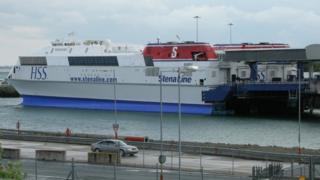 Stena Line has scrapped its fast ferry HSS Explorer service from Holyhead on Anglesey to Dun Laoghaire in Ireland.
The company said it was consolidating its services to and from Dublin Port from Anglesey.
The HSS service, which crossed the Irish Sea in just over two hours, was run over the summer months.
Stena reduced daily sailings from two to just one in 2008 and a Christmas service was cut in 2014, causing speculation over the route's future.
A spokesman for the ferry firm said: "With two services [to Dun Laoghaire and Dublin Port] operating approximately 10 miles apart we needed to make a decision in relation to what operation best serves the needs of our customers.
"That operation is Dublin Port."