Llandudno Stone Age skeleton Blodwen returns home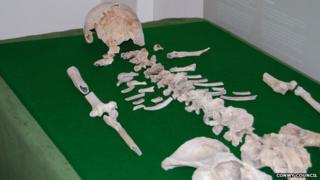 A Stone Age skeleton found in a north Wales seaside resort at the end of the 19th century is returning home after spending 120 years in England.
The skeleton of a woman who lived around 5,500 years ago was found in rocks on the Little Orme, Llandudno, during quarrying work in 1891.
Quarry owner Joseph Storey took her back to his hometown in Lancashire, where she was displayed in a museum.
She will now be placed on permanent display in Llandudno Museum.
The Neolithic skeleton which dates back to 3510BC - christened Blodwen by experts who studied her at Manchester University - has previously been loaned to Llandudno twice for exhibitions.
But reaching an agreement for her permanent return has taken careful negotiation.
Staff from Llandudno Museum will travel to Bacup Natural History Society's museum in Lancashire, where she has been displayed, and bring her back to north Wales on Tuesday.
Arthritis and cancer
Research of her bones suggests she died between the age of 54 and 63, that she was about 5ft (1.52m), was of robust build and probably from a farming community.
She had arthritis in both her spine and knees and at the time of her death she was also suffering from secondary cancer.
It is believed she died after she fell down into a vertical fissure in the rocks of the Little Orme.