Anglesey Bronze Age hoard officially declared treasure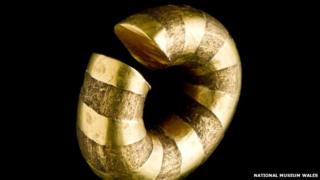 A late Bronze Age hoard of gold and copper artefacts on Anglesey has been declared treasure.
The find, thought to be around 2,800-3,000 years old, includes a gold penannular ring and three fragments of copper ingot.
Philip Cooper discovered on farmland in Cwm Cadnat in June 2013.
They were deemed to be treasure on Wednesday by the coroner for north west Wales.
The hoard will now be acquired by the Oriel Ynys Mon museum on Anglesey following its independent valuation, using funding secured via the Collecting Cultures stream of the Heritage Lottery Fund.