Council buys land in Llanddona for cemetery expansion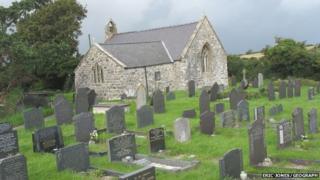 Hundreds of extra burial plots are being created on Anglesey.
The council has secured a compulsory purchase order (CPO) to buy land next to St Iestyn's Church in Llanddona.
After negotiations with the landowner failed, the CPO was used to secure more than half an acre of land to the south east of the church which will be used to create an extra 311 burial plots.
Previously, concerns were raised about a lack of burial plots at nearby Llanddona church.
Councillor Richard Dew said: "There was a compelling need for more burial space in the local community and the land identified was the most appropriate for the purpose."