Second shepherd needed to manage 1,600 sheep in Snowdonia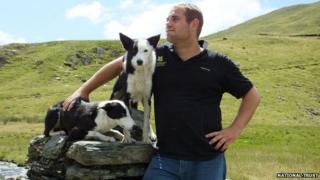 Do you think ewe have what it takes to be a shepherd on Snowdon?
If so, you could just be the person the National Trust is looking forward to help run a conservation programme on the mountain's foothills.
The trust already employs a shepherd, but they are now looking to recruit a second to help manage 1,600 Welsh mountain sheep.
The sheep are moved daily between May and September to new grazing areas away from sensitive mountain habitats.
The new recruit will help ensure the sheep are cared for during daylight hours, creating the only full-time shepherding project on the mountains in Wales.
The five-year conservation shepherding project which started last year, is being part funded by Natural Resources Wales.
Arwyn Owen, farm manager at Hafod-y-Llan, said: "The role is truly the opportunity of a lifetime, but it won't be for everyone.
"Snowdon is wet and the work can be lonely, but for a shepherd(ess) that loves sheep, sheepdogs and walking it will be the perfect job."
The National Trust is asking would-be shepherds to get in touch with them at the farm before May 21.